Mail Threat Alert - February 2021
Dangerous Mail Report Download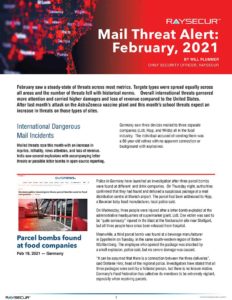 February saw a steady-state of threats across most metrics. Targets types were spread equally across all areas and the number of threats fell with historical norms.
Overall international threats garnered more attention and carried higher damages and loss of revenue compared to the United States.
After last month's attack on the AstraZeneca vaccine plant and this month's school threats, we can expect an increase in threats on those types of sites.
February saw a steady amount of mailed threats primarily white powder and drugs.
Both categories fell within historical norms, most responses were hazmat teams and had minimal exposure due to effective responses.