Mail Threat Alert - July 2021
Dangerous Mail Report Download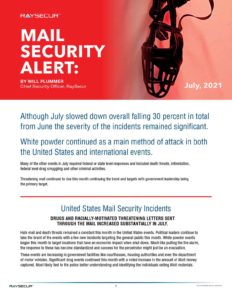 Although July slowed down overall falling 30 percent in total from June the severity of the incidents remained significant.
White powder continued as a main method of attack in both the United States and international events.
Many of the other events in July required federal or state level responses and included death threats, intimidation, federal level drug smuggling and other criminal activities. Threatening mail continued to rise this month continuing the trend and targets with government leadership being the primary target.
Each of these events occurred for very different reasons but the trends show mailed threats towards high profile threats will continue.
Overall the trend threat type followed expected paths with one significant outlier that rose significantly.  Both the United States and the International incidents saw a clear increase in both "death threat" and "hate" mail.  These events forced a detailed response from the local authorities and several of the government events garnered a national-level legal action.  
White powder and biological threats held steady this month and targeted historically normal locations and people with a few interesting highlights. Government targets were higher in locations that hold public activities like the state facilities and courthouses where the shutdown benefited a perpetrator with a mandatory appearance. Drugs overall dropped this month both in the United States and overseas.
United States Mail Security Incidents

Tennessee top vaccine official received muzzle in mail at office before she was fired –

Nashville, Tennessee

Police say woman, 79, is person of interest in writing death-threat letter against Cambodians in South Philly –

Philadelphia, Pennsylvania

Washington County inmate accused of threatening judges in another inmate's name –

Hagerstown, Maryland

Federal investigators find mail parcels to contain $57,000 in suspected drug-trafficking money –

Richmond, Virginia

Building evacuated at Chevron's California plant due to suspicious package -filing –

El Segundo, California
International Mail Security Incidents
Irainian Government confirms sabotage act at Karaj –

Tehran, Iran

Art Exhibit Featuring 'Statue of Peace' Suspended after Suspicious Package Delivery – Nagoya, Japan
'Limbs will be cut off if you don't leave state': Kerala MLA gets death threat –

Thiruvananthapuram, India

Suspect had fake euro notes sent by mail from Turkey –

Limassol, Cyprus