Mail Threat Alert - September 2021
Dangerous Mail Report Download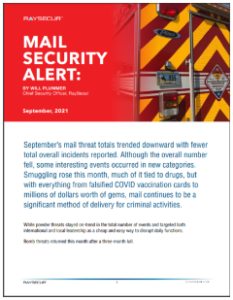 September's mail threat totals trended downward with fewer total overall incidents reported. Although the overall number fell, some interesting events occurred in new categories.
Smuggling rose this month, much of it tied to drugs, but with everything from falsified COVID vaccination cards to millions of dollars worth of gems, mail continues to be a significant method of delivery for criminal activities.
September proved to be an interesting month with mailed threats.  White powder and threatening letters continue on-trend in total numbers, however, the targets have shifted to state and local leadership and away from national-level targets. 
This puts smaller cities and governments with fewer response capabilities at a higher risk for exposure and stress on infrastructure.  
Smuggling increased this month in the United States for both drugs and other illicit material. Much of what was caught was tied to good screening methodologies and solid practices. 
Drugs increased in the news inside of jails and prisons highlighting the continual efforts to stop drug-laden legal mail. Many states have begun to copy all of the inmate mail except for legal mail which, in most cases, cannot be searched without the prisoner present.  
United States Mail Security Incidents

Chicago Officials Seizes Fake COVID-19 Vaccine Cards – Chicago, Illinois

Suspicious Letter With White Powder Causes Scare at Safety Center – Cheyenne, Wyoming

Idaho Lawmakers Receive Anonymous Threatening Letter Over new Wolf Laws – Lewiston, Idaho

Inmate Smuggled Drugs Through Mail Into DelCo Jail – Brookhaven, Pennsylvania

Suspicious package found to contain a brick – Wausau, Wisconsin

Inmate and friend arrested for allegedly smuggling drugs into jail – Covington, Louisiana 
Suspicious Package Arrives in Palmer from Florida – Palmer, Alaska
Camden arrest follows alleged mail shipment of crystal methamphetamine – Camden, New Jersey

Suspicious package tip leads to two pounds of meth in Elkton – Elkton, Delaware

Colorado Woman Caught Sending Drugs To Oklahoma County Jail Inmate – Oklahoma City, Oklahoma

Suspicious package at post office was loaf of bread – Pacifica, California
International Mail Security Incidents
White Powder Letter Found at New Zealand Parliament- Canberra, New Zealand

Bomb Scare at Nairobi Mall – Nairobi, Kenya

Jail bosses launch probe after letter containing ecstasy sent to prisoner from PARLIAMENT – Coldingley, United Kingdom

Precious Stones Smuggling – Karachi, Pakistan

Scented Letter Prompts Suspicious Package Investigation – Thornbury, Canada

Northern Territory man charged with attempting to import hallucinogens from Mexico – Darwin, Australia