Mail Threat Alert - October 2021
Dangerous Mail Report Download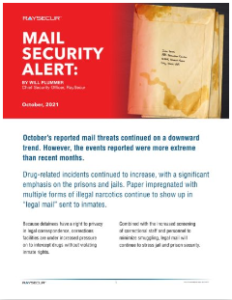 October's reported mail threats continued on a downward trend. However, the events reported were more extreme than recent months.
Drug-related incidents continued to increase, with a significant emphasis on the prisons and jails. Paper impregnated with multiple forms of illegal narcotics continue to show up in "legal mail" sent to inmates.
Because detainees have a right to privacy in legal correspondence, corrections facilities are under increased pressure on to intercept drugs without violating inmate rights.
Combined with the increased screening of correctional staff and personnel to minimize smuggling, legal mail will continue to stress jail and prison security.
United States Mail Security Incidents

US Rep. Ilhan Omar's Capitol Hill office receives a package with 'suspicious substance' – Washington DC

X-ray of the package at Alaska Capitol identifies deactivated grenade and rifle round – Juneau, Alaska

Man accused of smuggling drugs into multiple Georgia prisons with paper – Multiple Cities, Georgia

Letter filled with contraband leads to charges – Nevada, Missouri

Drug found in suspicious package – Crossville, Tennessee

Authorities investigating a suspicious package at Pahrump courthouse – Pahrump, Nevada
International Mail Security Incidents
Bomb explodes at CID headquarters in Naypyitaw –Naypyitaw, Myanmar

Suspicious envelope of white powder delivered to premises in Spinningfields sparks major alert

French teacher receives death threat containing photo of slain Samuel Paty

PM Janša, Defence Minister Tonin receive threats by mail – Ljubljana, Slovenia

Man's plan to deliver drugs via Lalamove foiled after deliveryman mistakenly sends it to neighbor