Mail Threat Alert - November 2021
Dangerous Mail Report Download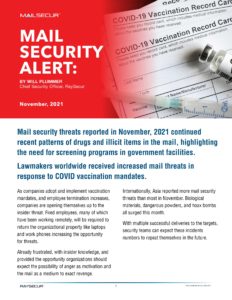 November 2021's mail security threats continued recent patterns of illicit items in the mail, highlighting the need for screening programs within government facilities.
Lawmakers worldwide received increased mail threats in response to COVID vaccination mandates.
As companies adopt and implement vaccination mandates, and employee termination increases, companies are opening themselves up to the insider threat.

Fired employees, many of which have been working remotely, will be required to return the organizational property like laptops and work phones increasing the opportunity for threats.

Already frustrated, with insider knowledge, and provided the opportunity organizations should expect the possibility of anger as motivation and the mail as a medium to exact revenge.
Internationally, Asia reported more mail security threats than most in November. Biological materials, dangerous powders, and hoax bombs all surged this month.
With multiple successful deliveries to the targets, security teams can expect these incidents numbers to repeat themselves in the future.
United States Mail Security Incidents
School Board receives mail threat of purple powder
Customs finds meth in baby diapers
Drugs found inside children's toys
Mail-in Drug Trafficking Operation Closed Down
Two held for trial in alleged jail smuggling operation
Meth mailed from Las Vegas to New York
International Mail Security Incidents
Amazon executives charted with marijuana smuggling
Court evacuated for threatening letter with caustic soda
Suspicious, unknown substance sent to courts
Burqa-clad woman sends dummy 'bomb'
Bomb squad & evacuations, judges receive letters with dangerous chemical
Doctor accused in 'threat-letter' case