RaySecur CSO Will Plummer analyzes mail security incidents and data trends of 2021.
In this recorded webinar, Will Plummer provides an expert analysis and early look at 2022's predicted patterns.
RaySecur is committed to providing timely and valuable information on mail center safety and security.
The webinar will interest security, facility, mailroom leads, and all mailroom personnel who wish to stay informed about mail-borne threats.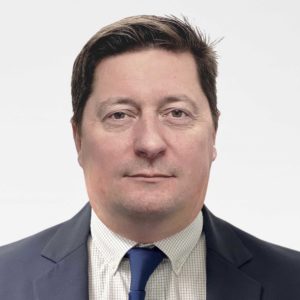 CSO and Director of RaySecur's EODSecur program. 25-year US Army veteran and Master EOD Technician.
Download and print or share the slides from this webinar on mail security.
If you'd like to see more webinars on similar topics, please feel free to let us know!
And as always, please feel free to share this webinar with your colleagues in mail security.
2021 Mail Security Statistics
Patterns in target locations and trigger topics presented new trends in emerging mail security threats throughout 2021.
Response to cultural or political scenarios, friction points that require increased screening, increase in narcotics, and recurring events needing continual effort.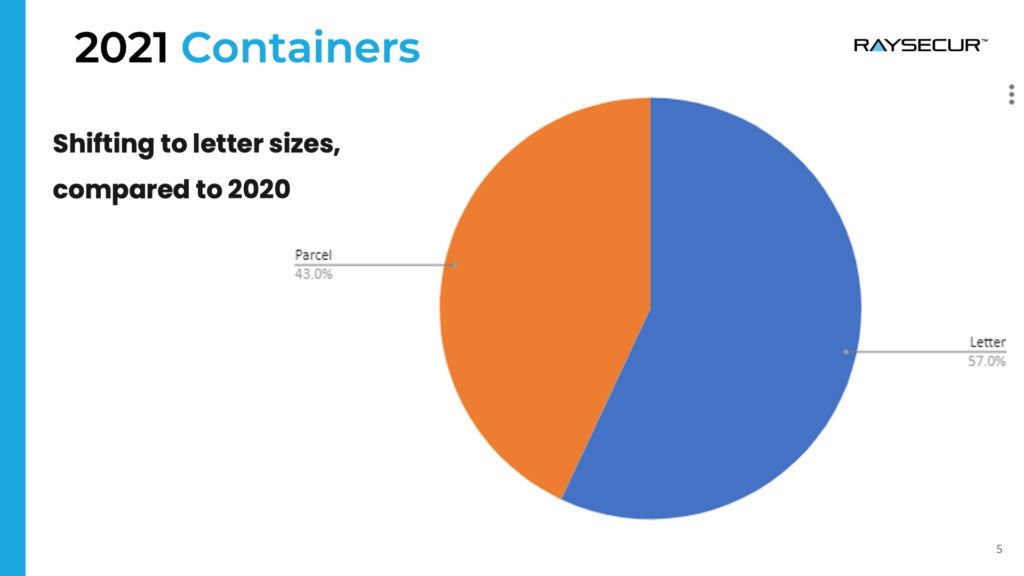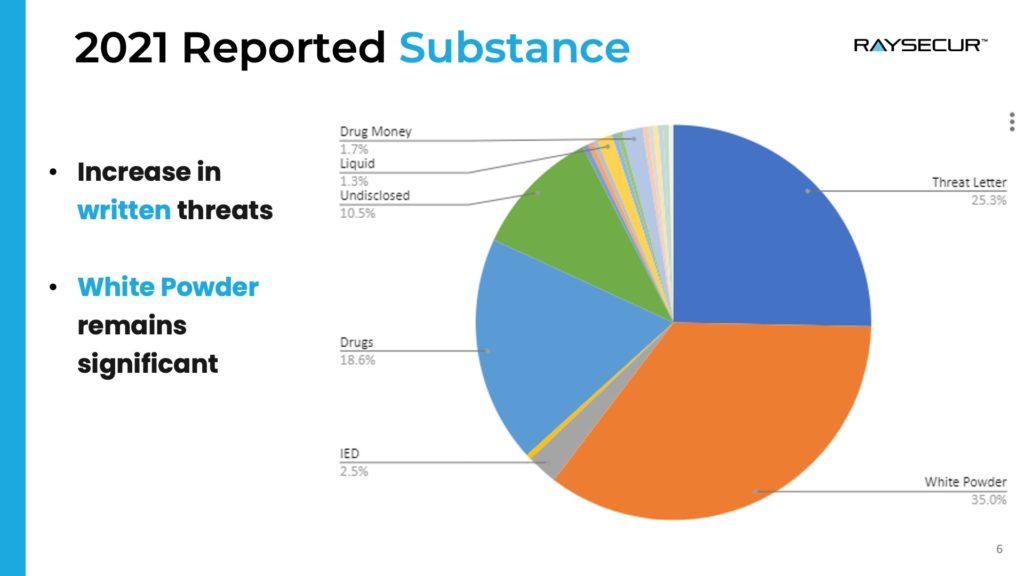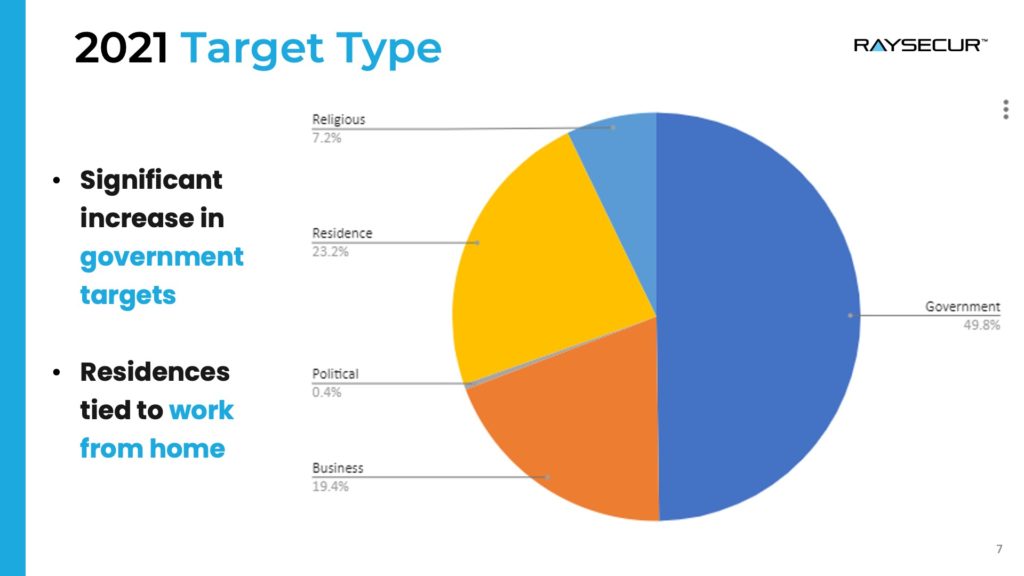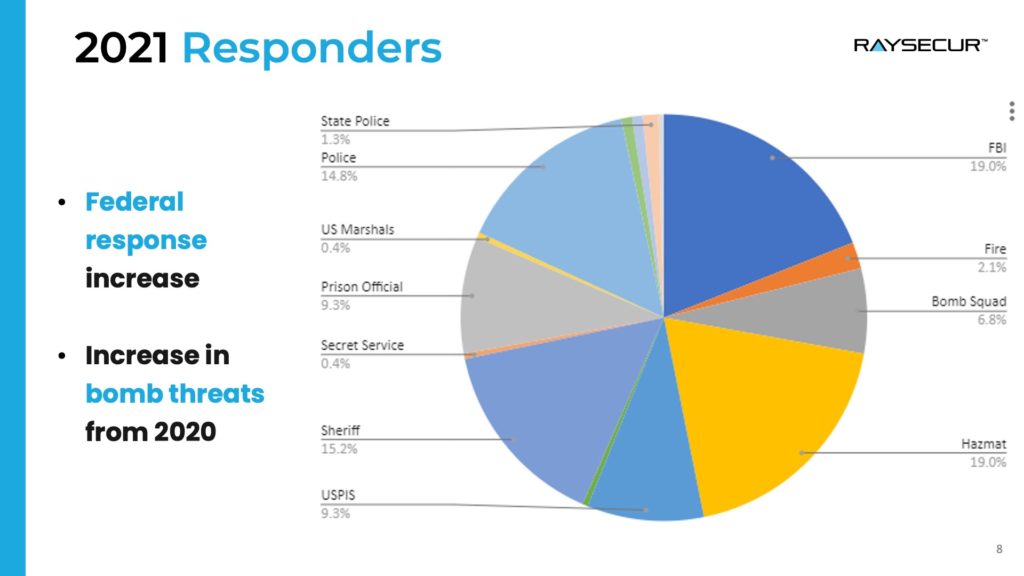 The above statistics appear to be driven mostly by four factors:
(1) Mistrust in media and government, (2) COVID response, (3) mandatory vaccine policies, and (4) a feeling of "lack of representation."
Generally, mail events fall somewhere in the middle of a series of threats, escalating in severity.
They are also inspired by current events. Mail incidents tend to follow major news events with a 5-7 day delay, historically.
In 2021, that included the January 6 US Capitol demonstration and subsequent legal and political fallout. It included the death of George Floyd and the trial of Derek Chauvin.
And, in increasing amounts, it has included government-manded Covid response protocols like mask and vaccine mandates.
2021 Mail Security Incidents
The examples below highlight the mail security trends established in 2021, and help provide a preview of what to expect in 2022.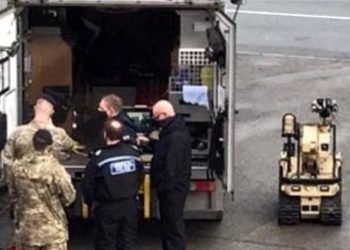 1. Anti-Vaccine Sentiment
Man arrested over a package sent to vaccine plant
A hoax package mailed to a Covid 19 vaccine production plant in southeast Wales caused a shutdown that lasted several hours. The package itself was not a complete threat but it was a clear message that the 53-year-old man charged with sending it wanted to disrupt the facility.
A spokesman said Anthony Collins has been charged with dispatching an article by post "to induce the belief it is likely to explode or ignite."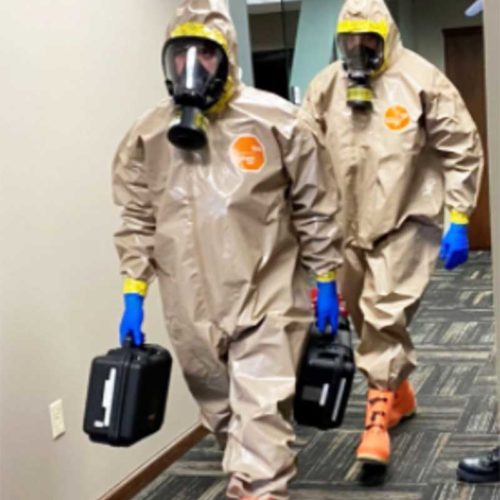 White Powder Threatens Lawyer
The powder had been tested and probably was a harmless corn starch. He was also tested and cleared by a doctor. The letter, mailed Jan. 16 from Arizona, contains the line, "You will NOT represent these traitors," and a line from Shakespeare's Henry VI, Part 2, "(L)et's kill all the lawyers."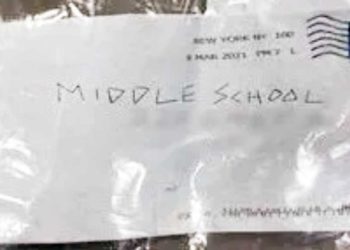 7 Manhattan schools received suspicious envelope with white powder substance
"Each envelope has a U.S. flag stamp and a handwritten address in block letters," the department said Friday. "The NYPD is sharing an example of the envelope for awareness."
"It appears that the motive of the sender is to cause disruption and alarm," police said in an advisory on Thursday.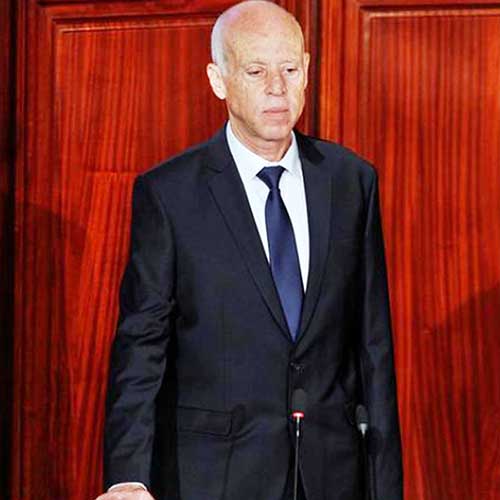 Tunisian president's office gets a letter with suspicious powder
The office of Tunisia's president received a letter containing suspicious powder and is investigating the matter.
Reporting suggested the lethal toxin ricin had been found in the envelope, and that it had been addressed to the presidency in the Carthage Palace.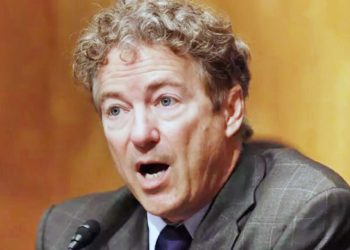 Death Threats, White Powder, and Rand Paul
An unknown person mailed a package containing suspicious white powder to the home of Republican Kentucky Senator Rand Paul. It's the second instance of a Republican official being sent white powder to occur in the last five days.
The package reportedly had a picture of Paul in bandages with a gun pointed at his head. It also contained the quote, "I'll finish what your neighbor started you motherf*cker," according to Fox News. Paul's neighbor assaulted him in 2017.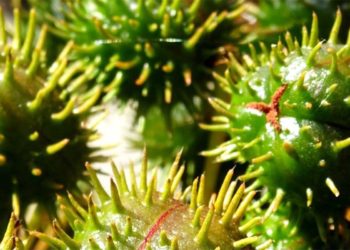 Feds: 'Breaking Bad' inspired Boston-area researcher to seek poisons
The former head of advanced research at a Boston-area biotechnology company told investigators he was inspired by the television show "Breaking Bad" when he tried to obtain the powerful poison ricin, federal prosecutors said Tuesday.
After he spoke to agents, the alleged researched poisons that could be made at home, prosecutors said.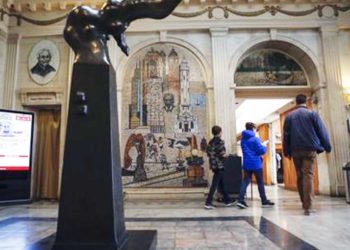 7. Racially-Motivated Threat
Hate Mail And The Museum of African American History
"They were targeting us as a conduit to other Black leaders, threats against President Biden, Vice President Kamala Harris, even Nancy Pelosi," said president and CEO Perri Irmer. "The minute I saw the content of this mail, I reached out to the US Secret Service."
In all, the museum, which is the nation's oldest independent Black museum, has received six letters espousing hate and vitriol since Jan 22.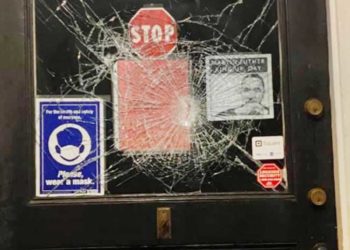 8. Specific Racial Threat
State Representative Racial Threat Letter
"The letter came to the statehouse office less than three weeks ago with no return address. It features multiple confederate flags and reads 'Where are your rights? First, Beasley, now Hodges. And 'you next, and no votes for turncoats.'"
"You don't know what to make of it all, you know, is that cowardly people don't even bother to put their return address," said Rutherford. "When people do this it does come across in a threatening manner."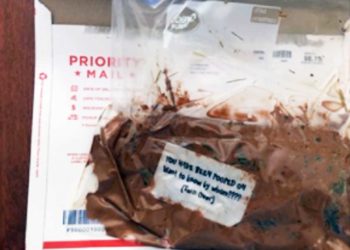 Biological Threats Mailed to Ex-Wife
A Tennessee nurse who admitted to mailing feces and a blood-stained feminine product to her husband's ex-wife is facing federal charges.
She also admitted to police that she mailed the ex-wife a letter in April that included a derogatory message. She reportedly stamped the envelope with the hospital's "New Patient" stamp in red ink and labeled the return address as "Women's Health Specialist."
German police investigate three parcel bombs sent to food companies
Three parcel bombs were found at different food and drink companies. On Thursday night, authorities confirmed that they had found and defused a suspicious package at a mail distribution centre at Munich airport.
A third parcel bomb was found at a beverage manufacturer in Eppelheim on Tuesday, in the same south-western region of Baden-Württemberg. The employee who opened the package was shocked by a small explosion, police said, but no severe damage was caused.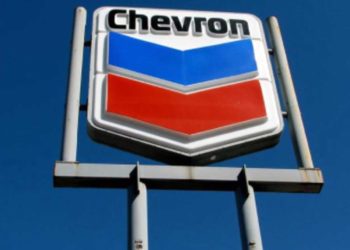 Building evacuated at Chevron's California plant due to suspicious package
A building was evacuated at Chevron's El Segundo, California oil refinery site after the release of an unidentified "white powder" substance from a package delivered to the facility, a filing with the California Governor's Office of Emergency Services said.
The employee who opened the package will be provided medical attention for exposure and local hazmat officials are responding, the filing said, quoting a filing with the U.S. National Response Center.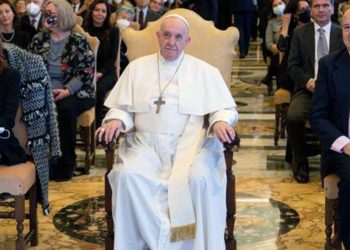 Letter addressed to the Pope with three bullets inside is sent to the Vatican
Italian police are investigating a disturbing death threat addressed to Pope Francis. Law enforcement in Milan has confirmed an envelope containing three bullets was sent to the Vatican.
According to Italian police, the three bullets are presumed to be for a pistol and the envelope also contained a message alluding to financial operations at the Vatican.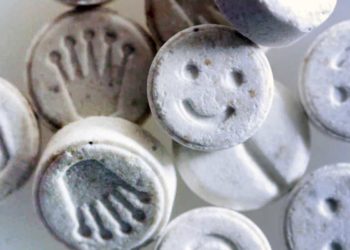 Probe after letter containing ecstasy sent to prisoner from Parliament
When the letter — written on House of Commons headed note-paper — arrived at the jail, it was found to have been exposed to a significant amount of ecstasy powder MDMA. Further investigation showed the envelope and letter, franked with the postmark of the House of Commons, contained traces of the drug, it was revealed last night.
The letter was sent by a junior official in the Palace of Westminster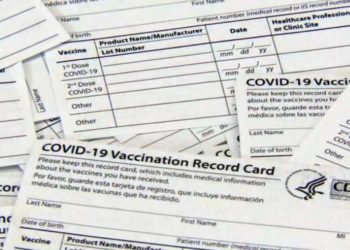 Officials Seizes Fake COVID-19 Vaccine Cards
Chicago officials have confiscated more fake COVID-19 vaccination cards at O'Hare International Airport. For the second time this month, only this time they seized over 40 counterfeit cards.
Discrepancies and the "low-quality appearance" of the cards made the workers notice they were fake. This parcel was immediately suspected to be suspicious due to the misspellings on the package.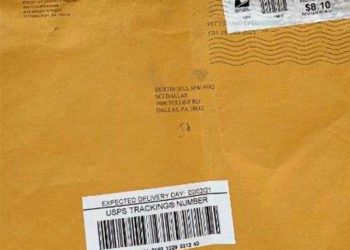 Man accused of smuggling drugs into multiple Georgia prisons with paper
Roswell police determined an intricate drug scheme they uncovered in funneled drugs into Georgia prisons by concealing them in laced pieces of paper, disguised as legal correspondence to inmates
"This person had been purchasing cannabinoid in powder form, converting the powder into liquid form, soaked it into the paper, and that paper was then being turned into basically disguised formal correspondence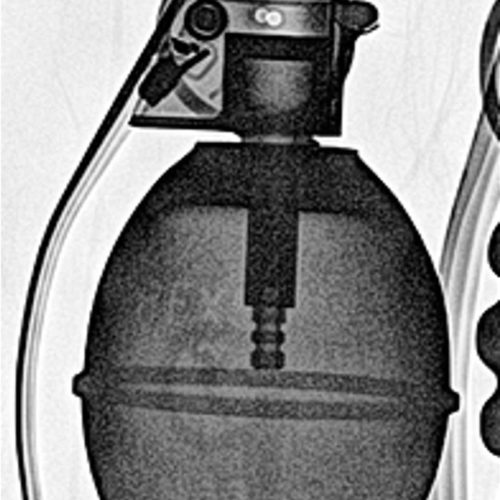 X-ray of package at Alaska Capitol identifies deactivated grenade and rifle round
After a deactivated grenade and rifle round were found in a package mailed to Alaska's Capitol recently, the agency in charge of operations asked lawmakers and staff to take more care "when mailing certain items to the Capitol."
"While the items received are legal and non-lethal, requesting such items be sent to the Capitol could have serious unintended consequences. As such, please use your personal mailing address for questionable items that might cause concern if scanned by an X-ray device,"
Download and print or share the slides from this webinar on mail security.
If you'd like to see more webinars on similar topics, please feel free to let us know!
And as always, please feel free to share this webinar with your colleagues in mail security.