RaySecur has transformed how security teams for major companies keep people safe with MailSecur, the first mail scanner that can see inside letters and packages without using X-ray.
Using T-Rays (Terahertz Imaging), MailSecur sees more and smaller mail borne threats than X-ray scanners and detects the most common threats sent through the mail today: powders and liquids, that go undetected with conventional screening tools.
MailSecur is part of a comprehensive mail security solution that is based on the Five Pillars of Mail Security providing a scalable security solution to protect all sites across the organization, not just a select few.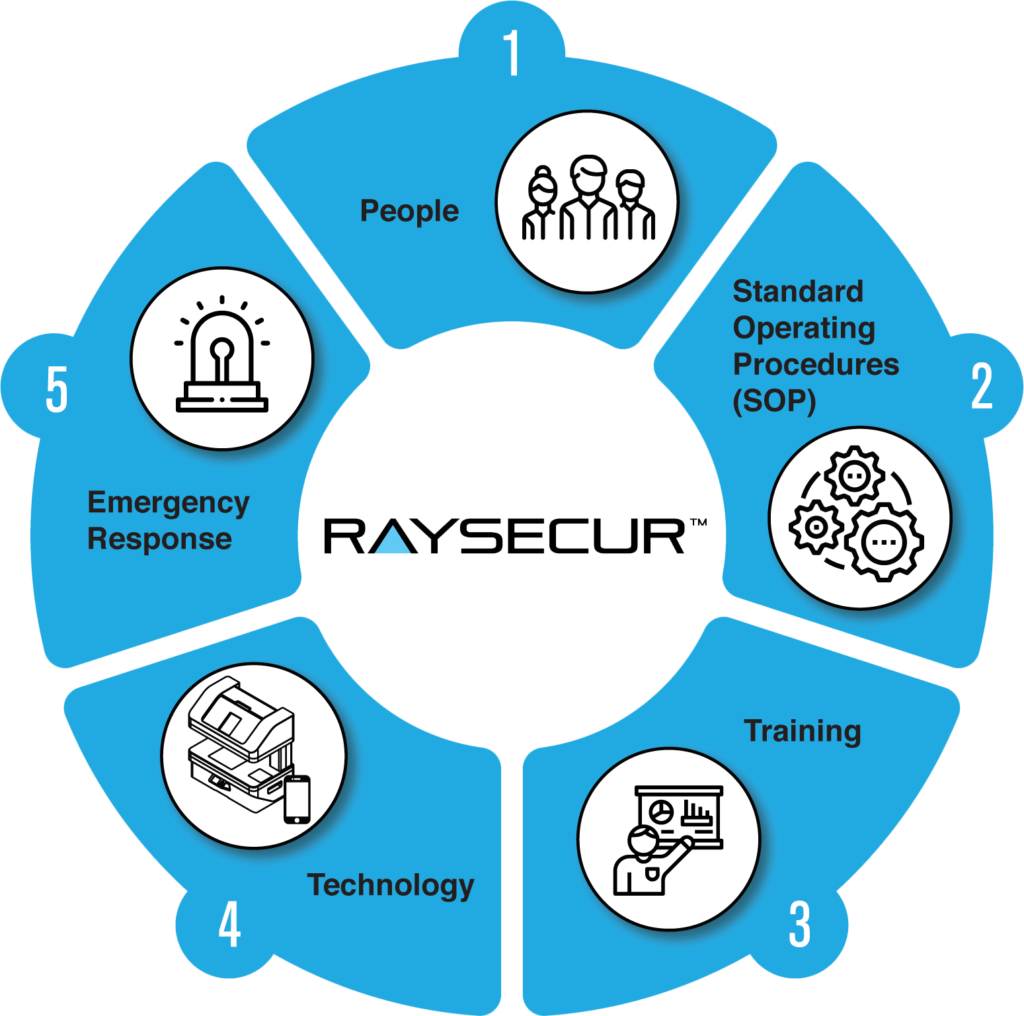 Mail security starts with the support of company executives and internal teams who understand the company's unique risks and vulnerabilities. 
Companies using MailSecur typically use their own on-site staff to operate it since it is so fast and easy to use.
That staff is trained by RaySecur in the fundamentals of mail security and operation of MailSecur and supported by our on-call EODSecur staff 24/7.
2. Standardized
Procedure
RaySecur's mail security experts apply their decades of security experience to help companies develop mail security Standard Operating Procedures (SOPs).
These include the optimal technology, training, personnel, and emergency response for each location based on its risk profile, so you don't have too little or too much protection.
RaySecur provides a robust mail center security training program with courses ranging from designing Standard Operating Procedures (SOPs), to emergency response planning, to how to safely scan incoming mail.
The on-demand courses are designed for new employees and can also be used as a yearly refresher for veterans.
RaySecur provides the industry's first, millimeter wave (mmWave) scanner, MailSecur, to safely see inside of incoming mail items. MailSecur is used by the world's leading companies to keep their people and facilities safe from potentially hazardous or dangerous contents concealed in mail and other deliveries.
In addition, the MailSecur Connect mobile app enables standardized security procedures, training, and guided step-by-step screening, along with access to 24/7 expert support, to be deployed seamlessly across all of your sites globally.
RaySecur's EODSecur team, staffed by former military threat experts, provides critical 24/7 support for your mailroom personnel when potential threats are detected, so you don't need high-priced experts on staff.
When a potentially dangerous mail item is found, RaySecur's EODSecur team can remotely connect to your MailSecur scanner and help your mailroom personnel go through the next steps.
More often than not, our teams are able to de-escalate the situation in minutes, preventing a costly shut-down of your facility, or law enforcement, USPIS, local HAZMAT, and other outside agencies as needed.