Mail Threat Alert - March 2021
Dangerous Mail Report Download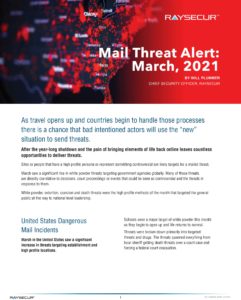 As travel opens up and countries begin to handle those processes there is a chance that bad intentioned actors will use the "new" situation to send threats.
After the year-long shutdown and the pain of bringing elements of life back online leaves countless opportunities to deliver threats.
Sites or people that have a high profile persona or represent something controversial are likely targets for a mailed threat.
March saw a significant rise in white powder threats targeting government agencies globally. Many of these threats are directly correlative to decisions, court proceedings or events that could be seen as controversial and the threats in response to them.
White powder, extortion, coercion and death threats were the high profile methods of the month that targeted the general public all the way to national level leadership.