Mail Threat Alert - April 2021
Dangerous Mail Report Download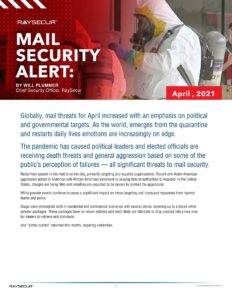 Globally, mail threats for April increased emphasis on political and government targets. As the world emerges from quarantine and restarts daily lives, emotions are increasingly on edge.
The pandemic has caused political leaders and elected officials are receiving death threats and general aggression based on some of the public's perception of failures.
Racial hate speech in the mail is on the rise, primarily targeting pro-equality organizations. Recent anti-Asian American aggression added to historical anti-African American sentiment is causing federal authorities to respond. In the United States, charges are being filed and penalties are expected to be severe to combat the aggression.
White powder events continue to cause a significant impact on those targeting and increased responses from hazmat teams and police.
Drugs were intercepted both in residential and commercial scenarios with several stores receiving up to a dozen white powder packages. These packages have no return address and most likely are attempts to ship product into a new area for dealers to retrieve and distribute.
And "glitter bombs" returned this month, targeting celebrities.
United States Mail Security Incidents
Hate Mail at African American History Museum – Chicago, IL
Anti-Asian Hate Crime Letter – Taylorsville, UT
Smuggling Drugs Through Prison Security – Oxnard, CA
Private Courier and 1,200 Smuggled THC Cartridges – Newburgh, IN
A Dozen White Powder Letters Mailed To A Jewelry Store – Houston, TX
"Lucifer" Actor Tom Ellis Receives Suspect Package – Los Angeles, CA
White Powder Causes Hazmat Response – Jackson, NJ
International Mail Security Incidents
Death Threat Letter & Bullets Mailed to Madrid Official – Madrid, Spain
Red-stained Knife Mailed to Spanish Tourism Minister – Madrid, Spain
Threatening Letters to Politicians, Journalists – Berlin, Germany
$300k of Cocaine Mailed in Dried Fruit – Piarco, Trinidad & Tobago
3.3 lb of Liquid Cocaine Discovered in Imported Mail