Mail Threat Alert - June 2021
Dangerous Mail Report Download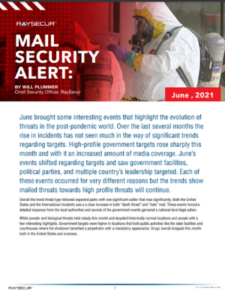 June brought some interesting events that highlight the evolution of threats in the post-pandemic world. Over the last several months the rise in incidents has not seen much in the way of significant trends regarding targets. 
High-profile government targets rose sharply this month and with it an increased amount of media coverage. June's events shifted regarding targets and saw government facilities, political parties, and multiple country's leadership targeted.  
Each of these events occurred for very different reasons but the trends show mailed threats towards high profile threats will continue.
Overall the trend threat type followed expected paths with one significant outlier that rose significantly.  Both the United States and the International incidents saw a clear increase in both "death threat" and "hate" mail.  These events forced a detailed response from the local authorities and several of the government events garnered a national-level legal action.  
White powder and biological threats held steady this month and targeted historically normal locations and people with a few interesting highlights. Government targets were higher in locations that hold public activities like the state facilities and courthouses where the shutdown benefited a perpetrator with a mandatory appearance. Drugs overall dropped this month both in the United States and overseas.
United States Mail Security Incidents
Black Lives Matters Supporters Targeted With Hate Mail – Plano, Texas

Black Lives Matters Supporters Targeted With Threats – Portland, Oregon

"Open Please Anthrax Inside" – Manassas Virginia

White Powder Sent to Government Building – Portland, Oregon

Biological Threats Mailed to Ex-Wife – Knoxville, Tennessee 

Customs and Border Patrol Nab 14 Pounds of Cocaine in Mail – Cincinnati, Ohio

Kim Kardashian Stalked Through the Mail – Los Angeles, California
International Mail Security Incidents
Spanish Government Continues to Receive Suspect Packages – Madrid, Spain


Last Mile Threat to Chancellor Angela Merkel's Offices – Stralsund, Germany



India's Chief Minister Continues to Receive Threatening Mail –

Jharkhand, India



Danish Royalty Targeted with Suspicious Package –

Copenhagen, Denmark



Package Bomb Detonates During Shipping –

Darbhanga, India



Cannabis Shipment Hidden In a "Sock" –

Fareham, United Kingdom