Please note — this article is intended to provide general guidance, not detailed medical advice.
COVID-19 has swept the United States. Are mail handlers at high risk of a COVID-19 Mail Security threat?
Probably not, according to the latest science — if they take the proper mail handling safety precautions. Here's how.
---
Mail handlers have to protect themselves, their peers, and their loved ones from possible threats.
Balancing the Coronavirus' unique and unprecedented health and safety needs with maintaining business operations is a challenge.
The team at RaySecur has compiled this list of resources and useful information to help mail handlers and recipients keep themselves healthy and safe.
In this Article
In a hurry? Download this article
If you'd rather read this piece later, you can download a PDF of the article below.
We'll email you a link to grab the 3-page PDF of this article, totally free.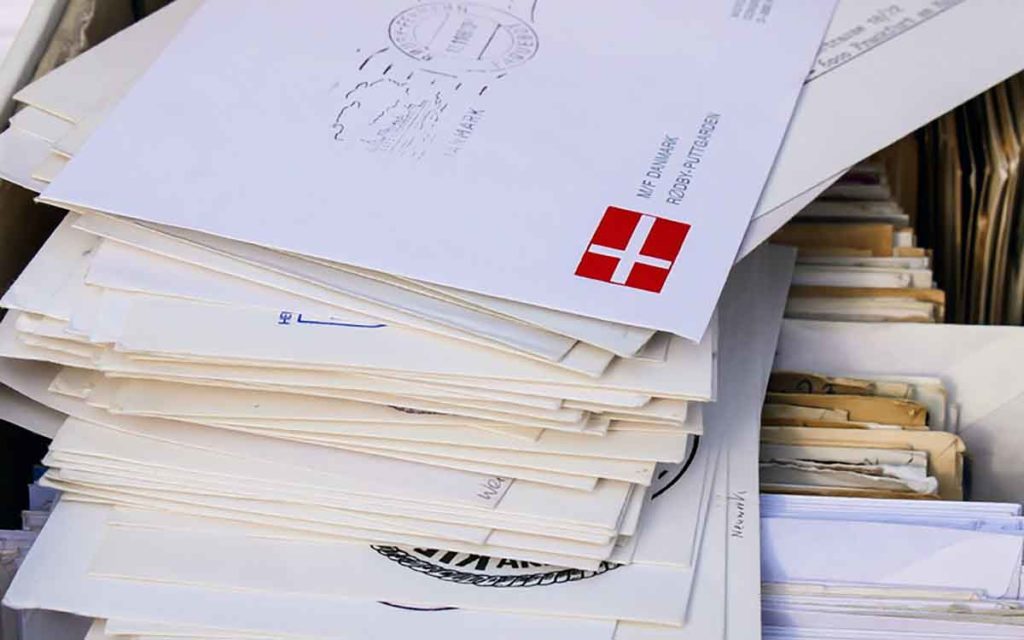 Is COVID-19 a Mail Security Threat?
The short answer is: no. SARS-CoV-2, the official scientific name for the novel Coronavirus which causes the COVID-19 respiratory disease, is transmissible only through droplets.
This virus does not travel through the air like many people seem to think. That is to say: the virus does not float—it falls.
This Coronavirus is not airborne. It travels in droplets.
This is relevant to mail handlers, because it means that the air inside a package is not a threat.
A sender "breathing" Coronavirus into a box cannot hurt you, as far as the best-available science tells us.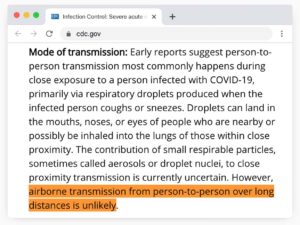 "…airborne transmission from person-to-person over long distances is unlikely."
This means sneezing and coughing are the threats. The virus lives in droplets of moisture.
Since the air inside a package cannot transmit droplets, mail handlers should focus on mail parcel surfaces.
Article Sections: Mail Threat · Touching Mail · Mail Carriers · Reduce Contact · Cleaning Equipment · Media Coverage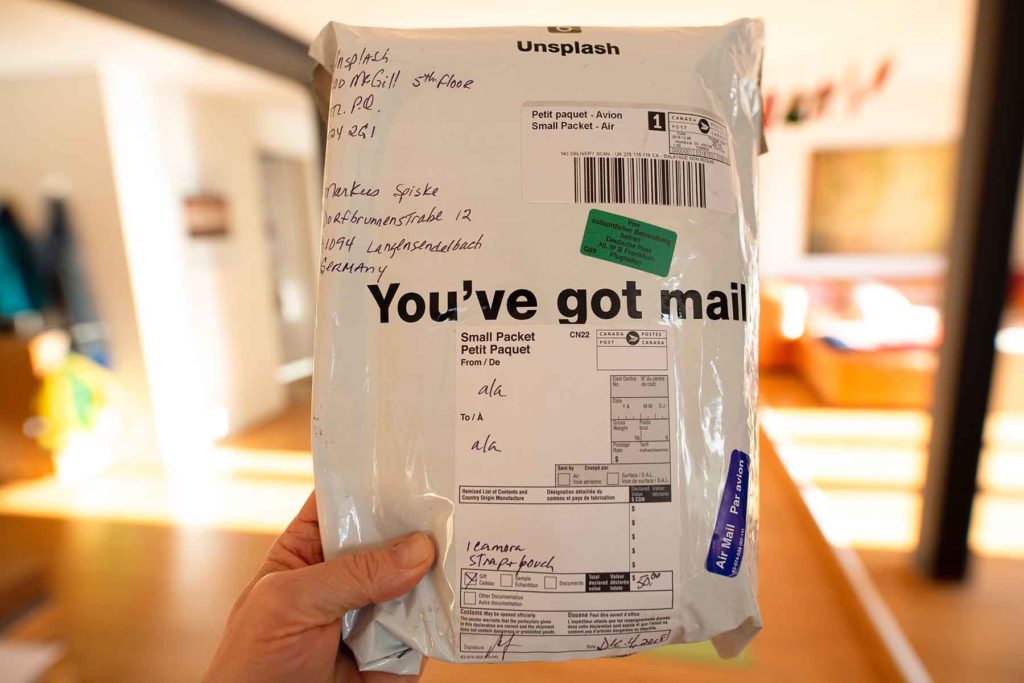 Can I catch Coronavirus by touching mail?
The CDC tells us that a sender breathing into a package can't hurt a mail handler. But what about coughing onto a parcel surface?
Can mail handlers contract COVID-19 from a paper or cardboard mail package exterior surface?
No — not unless the mail handler receives the mail package only a few hours after someone coughed on it.
Why? Two reasons.
1. Virus surviving on paper or cardboard
First, the virus cannot survive on the mail parcel's paper or cardboard surface for very long.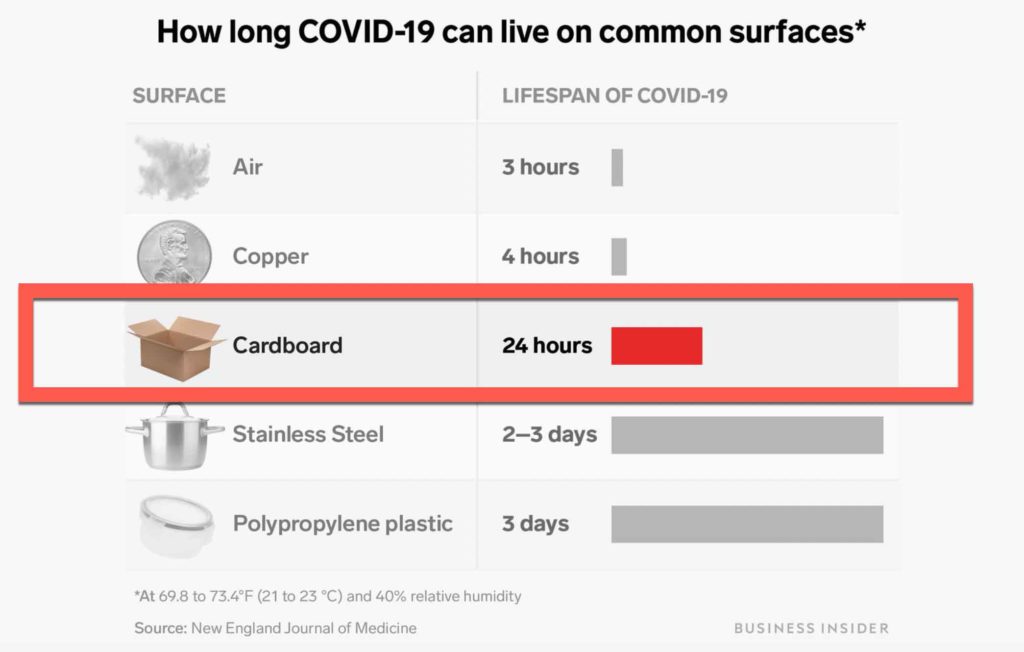 The best science available, as of March 20, 2020, tells us that it can survive on paper only up to 24 hours.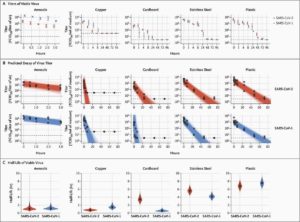 From the New England Journal of Medicine (we added the emphasis in the quote below),
On cardboard, no viable SARS-CoV-2 was measured after 24 hours…
24 hours may sound like a long time, but most mail takes at least 48 hours to travel from sender to recipient—double the paper-surface lifespan of the SARS-CoV-2 virus.
By the time the mail reaches its recipient, any viruses present are likely to be dead or inactive ("unviable").
2. Touching skin is not enough to contract the virus
The SARS-CoV-2 virus cannot penetrate skin (source: CDC). In order to harm a person, the virus must penetrate a permeable mucus membrane.
That's why the WHO, CDC, NIH/NIAID, FDA, and every other major medical body in the world are warning people not to touch their mouth or face.
Only if the virus reaches a person's mouth, nose, or eyes will it become harmful. (Again: please remember that we're not doctors. Please heed CDC/medical advice.)
Article Sections: Mail Threat · Touching Mail · Mail Carriers · Reduce Contact · Cleaning Equipment · Media Coverage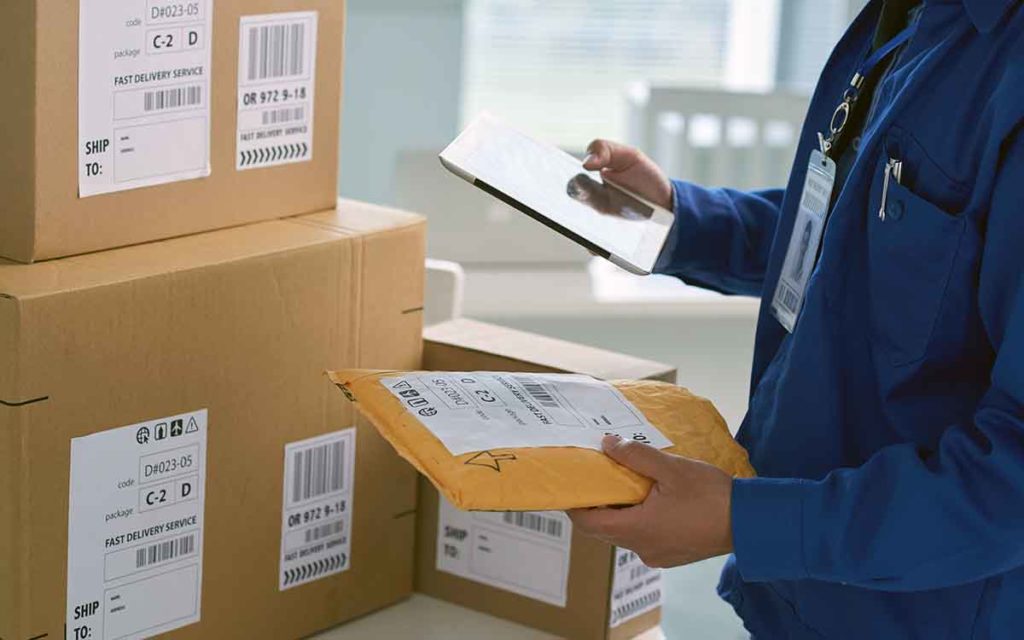 What about mail carriers?
If the virus can stay active as the result of a cough or sneeze on a mail package, are recipients at risk of exposure from mail carriers expectorating on a box or envelope?
Unfortunately, the answer is yes.
The same is true of a mail carrier picking up a parcel from a sender, shortly after the sender coughed on it.
This situation is a result of our mail collection system, and is the largest threat scenario for USPS and other mail and package delivery systems.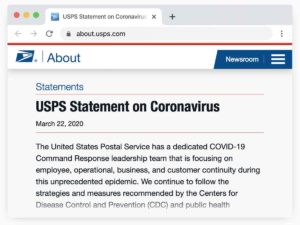 As always, RaySecur recommends all mail handlers, including carriers and delivery personnel, take proper health and safety precautions—mostly, that includes wearing gloves.
Statement from USPS
On Sunday, March 22, 2020, the USPS released a statement on Coronavirus, which included this information about their mail carriers:
We are encouraging healthy behaviors and protocols including frequent hand washing, use of sanitizers, and additional cleaning of work spaces, and are encouraging any employee who feels they are sick to stay home.
The USPS organization clearly recognizes the potential mail threat posed by this virus, and has been proactive in promoting the health and safety of their employees and customers.
Their statement goes on to detail how USPS mail carriers will implement the practice of 'distancing,' during their sales and deliveries, including modifying a few procedures:
To reduce health risks, we also are temporarily modifying customer signature capture procedures.

While maintaining a safe, appropriate distance, employees will request the customer's first initial and last name so that the employee can enter the information on the electronic screen or hard copy items such as return receipts, PS Forms 3811 and 3829.
Lastly, the USPS has asked their customers to implement some distancing, in order to protect themselves, their neighbors, and of course the carriers.
For increased safety, employees will politely ask the customer to step back a safe distance or close the screen door/door so that they may leave the item in the mail receptacle or appropriate location by the customer door.
USPS addresses Coronavirus specifically
In the end of their March 22, 2020 statement, the USPS address the Coronavirus threat specifically.
They provide quotations and cite sources from the CDC and WHO, which should be reassuring for readers and USPS customers.
From their statement:
Importantly, the CDC, the World Health Organization, as well as the Surgeon General have indicated that there is currently no evidence that COVID-19 is being spread through the mail.
Their statement quotes the WHO, with a mention of commercial products imported from other parts of the globe. According to the statement, products or packaging that are shipped over a period of days or weeks pose "likely very low risk."
Article Sections: Mail Threat · Touching Mail · Mail Carriers · Reduce Contact · Cleaning Equipment · Media Coverage
How to reduce risk of Coronavirus contact
Despite the extremely low risk of contracting SARS-CoV-2 (Coronavirus) from a mail or cardboard mail package, mail handlers and consumers must take precautions to protect themselves.
Regardless of Coronavirus or other mail-borne threats, mail is always dirty.
RaySecur always recommends that mail handlers should always wear nitrile gloves while opening or processing mail parcels as part of their standard operating procedures.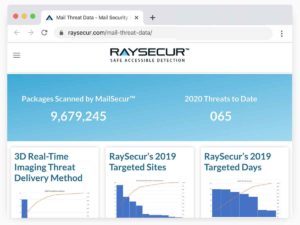 For mail handlers who cannot practice social distancing, as recommended or required in many US communities, below is a consolidated list of steps and techniques to help minimize the threat.
Wear nitrile gloves
Avoiding touching your face
Wash your hands
Wipe down your work area often — see below for methods
Article Sections: Mail Threat · Touching Mail · Mail Carriers · Reduce Contact · Cleaning Equipment · Media Coverage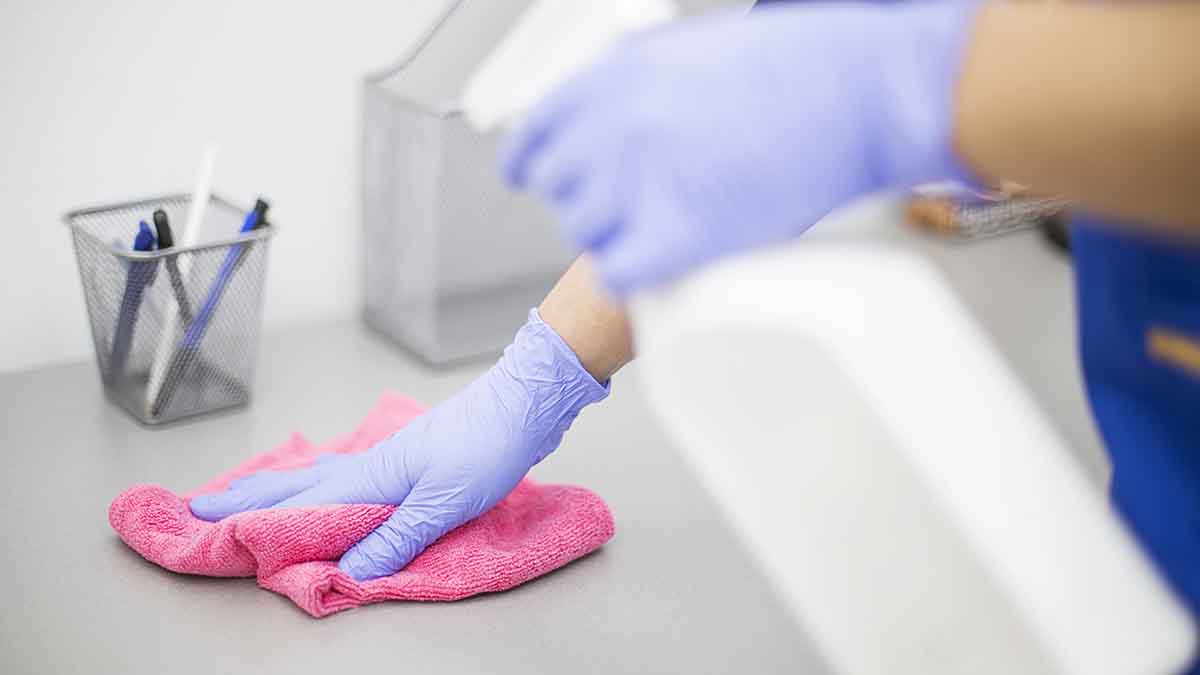 Cleaning MailSecur Equipment
Below is a list of cleaning materials which can be used to maintain your MailSecur or other home and office equipment.
Cleaning Materials
This list is not exhaustive, but is meant to provide general guidance.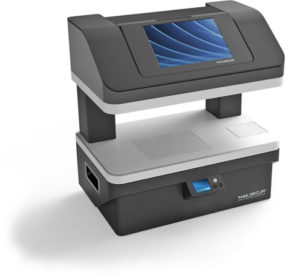 Pre-moistened antibacterial wipes
Bleach 2-6% with 94-98% water
Antibacterial soap/sanitizer
Hot water and soap
Equipment cleaning is completed with a simple wipe-down of the hard surfaces from the top to bottom.
While wearing gloves (an N95 respirator mask is optional, but may be good practice), gently wipe down the item with the minimal amount of cleaning agent to moisten the exposed surface and remove anything that it was exposed to.
Cleaning Steps
Here are a few quick bullet points to help mail handlers properly decontaminate themselves and their mail processing work area.
Follow these steps to keep your MailSecur clean and your mail processing work area safe.
Clean the MailSecur system at the end of every day or screening session
Always wear gloves for screening and decontamination
Wipe the system down from top to bottom
Wipe away from the face and the body, to ensure you do not contaminate yourself
Immediately discard all cleaning materials into the trash for disposal
These decontamination methods can be used for the entire machine (avoiding power cables, etc.)
Once completed, properly dispose of all cleaning materials that touched the item as well as protective equipment inside a plastic bag and seal for disposal.
We will continue to monitor the latest science around COVID-19 and update guidance consistent with recommendations from the WHO, CDC, USPS, and related agencies.
As the situation evolves, we encourage all mail handlers to dedicate proper time and resources to keep yourself and your teams safe.
Article Sections: Mail Threat · Touching Mail · Mail Carriers · Reduce Contact · Cleaning Equipment · Media Coverage
Download & print this article PDF
Rather take this article with you or email it to a friend? Download the PDF right here.
We'll email you a link to grab the 3-page PDF of this article, totally free.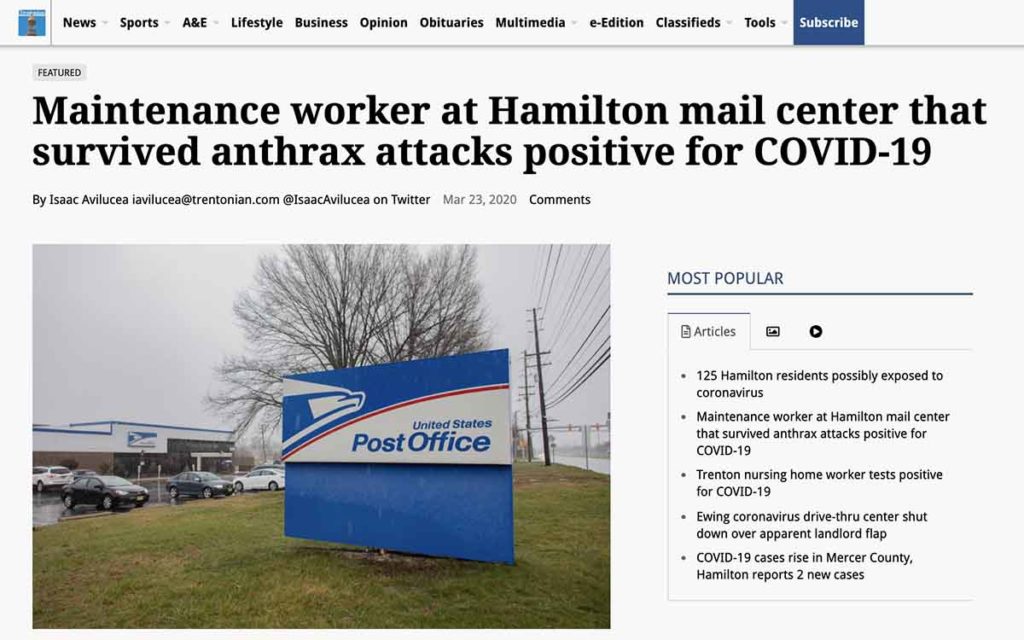 U.S. Media Coverage of COVID-19 in the Mail
RaySecur is certainly not the only organization concerned with the spread of COVID-19 in the mail.
The fact of the USPS statement on March 20 proves that they share the concern and are working to keep people safe.
Below is a running list of media coverage and incident reports of mail-related COVID-19 stories and cases, updated periodically to stay current.