White powder mail threats are showing up all over the Netherlands. 19 organizations across the country have been hit with white powder letters in the last week.
The first wave of white powder letters were reported at the offices of media company in Brabant and Amsterdam, and a hospital in Rotterdam.
The total reached 19 white powder letters over 3 days last week. No injures have been reported and facilities have reopened quickly.
"Letters containing the powder were first discovered at a DPG Media office in Best in Brabant and then at the company's main offices in Amsterdam. A similar letter was also delivered to the Ikazia hospital in Rotterdam."
Ongoing Incident
By day 2, Dutch authorities continued working on tracking down the source of the 11 reports of dangerous mail containing powders. Authorities tracked down reported incidents at impressive rate.
The speed at which they are being found tells us a few things:
3 Days in a Row
By Thursday, Nov 19, for the third day in a row, the Dutch country was hit with white powder letters.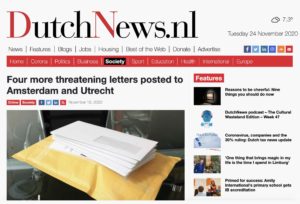 Signs indicate that the incidents will continue.
Since it's unlikely that the perpetrator will get bored and stop on their own, the end of the wave of dangerous mail attacks will occur when one of two things happens:
1. The individual responsible is caught.
2. The group responsible is pressured to stop or is caught.
19 white powder letters over three days have been delivered to a wide range of targets. Each contained powdered pesticide — a potentially dangerous powder to receive in the mail.
No Leads Publicly Known
To our knowledge, Dutch authorities have not released any information about perpetrators or the causes driving the mail threats.
A police spokesperson told RTL that they cannot yet confirm that the letters have all been sent by the same person. "We do not know whether there is a connection between the earlier letters that have been delivered."
Although no injuries have been reported, no arrests have been made and, following the trend, more can be expected.
With nearly 20 incidents and zero injuries or major issues reported, it's clear that these organizations have a good handle on their mailroom security.
Given the language barrier, news of this story has been slow in the US. We will continue to monitor these events with our partners in the Netherlands and update this post as appropriate.